Siloa Lutheran Church
Congregational Council Meeting
June 14, 2022
Present: Bob Anderson, Sharon Peterson, Wally Bengtson, Donna Whitney and Lynn Erickson.
Absent: Pastor Mary Fiel, Mark Hansen and Sherry Campbell.
Wally opened with a devotional reading and Chairman Bob called the meeting to order at 5:59 pm.
Secretary's Report (Lynn):
• Motion made by Wally to approve the May 10,2022 regular congregational council meeting minutes and May 22, 2022 special congregational meeting minutes as written. Motion seconded by Sharon and motion carried.
Treasurer's Report (Donna):
• Ask for clarification about transferring funds up to $20,000 from memorials for the kitchen remodeling. Instructed to pay/transfer funds as the bills are presented rather than moving $20,000 now.
• One check to organist was re-written due to being lost and another check from a month has not been cashed. Will check on this.
• Bob and Wally have gone to the bank and signed the necessary paperwork to have the proper people listed on the accounts. Donna will go tomorrow and sign them.
• Motion made by Sharon to approve report as presented. Motion seconded by Wally and motion carried.
Pastor's Report (Pastor absent but handout available):
• Pastoral acts were 9 Sunday services, 8 affirmations of Baptism and 9 pastoral care connections/meetings.
• May was a busy month with confirmation, end of Sunday School/Sparks, special services, visits and calls, two online conferences, boundaries training, and community-wide National Day of Prayer Luncheon.
• Looking forward includes a couple memorial services/graveside services, Reading the Bible in 90 days program, twice a month county park fellowship walks, vacations, outdoor service, healing service, VBS, and Lutheran Night at the Twins.
• Motion made by Wally to pay Siloa's portion of mileage ($47.86) and expenses ($18.34). Motion seconded by Lynn and motion carried.
Stewardship (Wally):
• Nothing to report
Worship and Music (Sherry absent but Sharon reporting):
• Two bills were presented for reimbursement: $46.99 for Confirmation cake and $43.00 for cake for Pentecost. Motion made by Sharon to approve these expenses and reimburse Sherry. Motion seconded by Lynn and motion carried.
• Outdoor service in July 10. Sherry will be unable to get supplies from church to the park. Bob and Sharon will see to getting supplies to the park. Siloa Singers will provide the music.
• Motion made by Lynn to pay Pastor the organist's pay on Sundays that she has to provide music (playing or creating play list on computer). Motion seconded by Sharon. Discussion. Motion carried. Donna requested that Pastor add to her monthly "Pastoral Acts" report when she does this so Donna knows when she is due this payment.
Property (Mark absent but Bob reporting):
• Ceiling fans have been replaced. The front spotlight bulbs were changed to LED bulbs but the rear ones need a different size bulb so different ones will need to be purchased. Mike Dennis Jr, from Crest Electric has informed Bob that he will donate all work and materials. He is also moving an electrical box for one of the stoves prior to new cabinets being installed. We thank him for this gracious gift.
• A downspout needs to be repaired or replaced.
Christian Discipleship (Sharon):
• One get well, one sympathy and six birthday cards were sent since last meeting.
• Printing of outdoor service flyers and June 26 Scotsman delivery have been paid using Thrivent Choice project funds. Thank you to Bromans and Andersons for doing the paperwork to get these available funds.
• Yard games will be needed for the outdoor service.
Old business:
• Internet service at church was tabled last month. This item has not been budgeted for and cost quoted was $50-65/
year
MONTH. Stewardship committee will see if there is a bundling discount available and report back. This was tabled again until more information can be obtained.
• Kitchen remodeling update included that the custom cabinets have been ordered and will be installed the week of July 11-15. Ladies will begin packing and cleaning cabinets next week in preparation for removing cabinets after the July 2 funeral. An ad will be placed in bulletin to see if anyone would like the cabinets.
New business:
• Next meeting will be on July 12 at 6:00 pm
• Motion made by Wally to adjourn. Meeting adjourned at 6:51 pm
Unapproved minutes respectfully submitted,
Lynn M. Erickson, Congregational Secretary
June 15, 2022
Approved with change in old business: internet is $50-65/month not year.
LME
July 12, 2022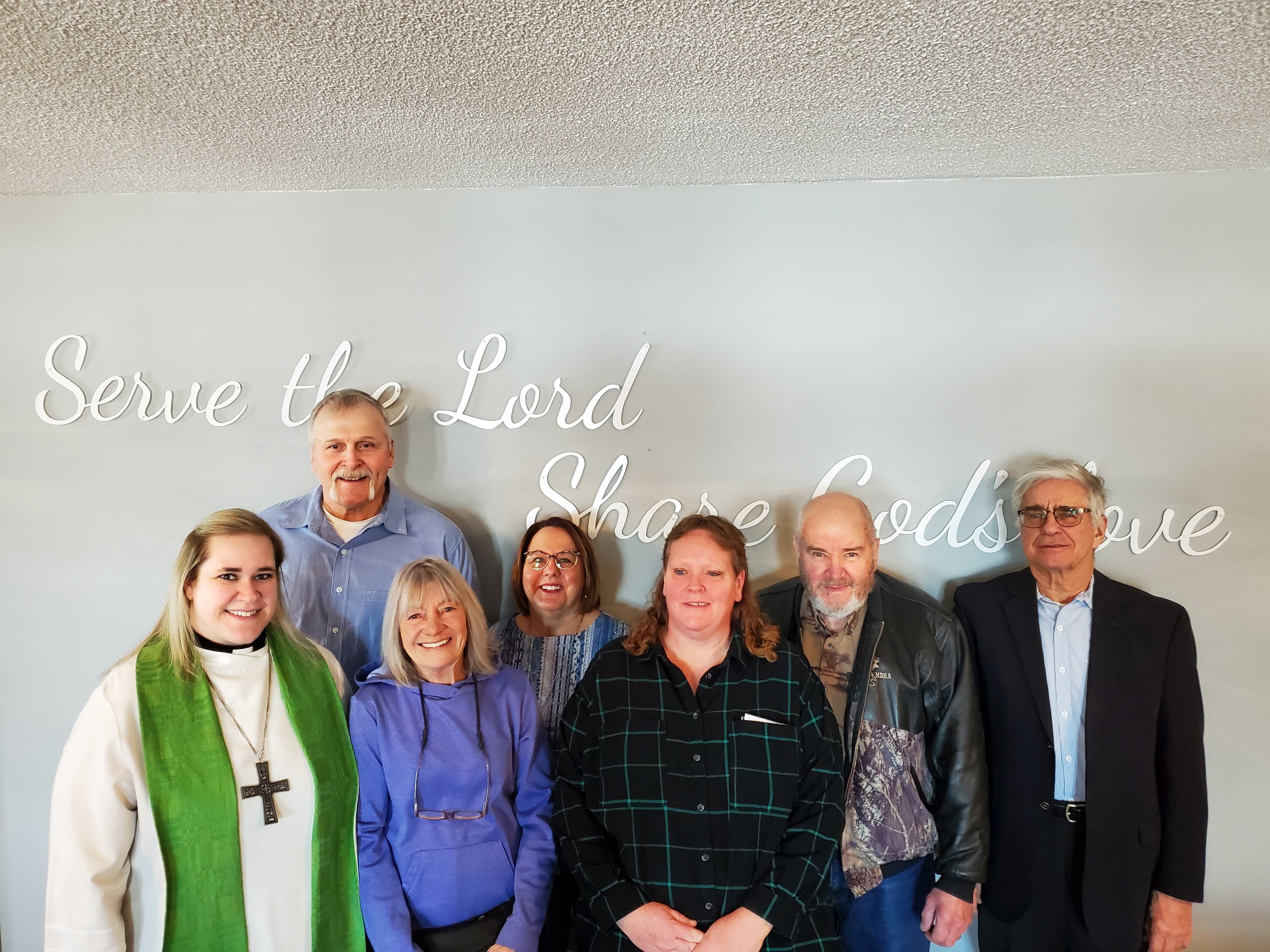 2022-2023 COUNCIL MEMBERS
Pastor Mary Fiel, Bob Anderson (Chairman), Sharon Peterson (Christian Discipleship), Lynn Erickson (Secretary), Sherry Campbell (Worship and Music), Mark Hansen (Property), and Wally Bengtson (Stewardship)